Ear Piercing Manchester
Internally threaded fr. £11
Externally threaded fr. £15
With over twenty years of experience in providing a high quality piercing service, here at Silver Lining, our Manchester studio is spotless and our staff are highly trained, meaning, whether it's your first time getting your ear pierced, or you're opting for a more unconventional piercing, we are well placed to guide you through the entire procedure. With extensive experience in beauty treatments, we offer a swift yet thorough service with minimal risk of infection, regardless of the type of piercing you choose.
What are the different types of ear piercing performed at Silver Lining?
Social media has made it possible to see the different ways your ears can be decorated with unique and innovative piercings and the stylish jewellery you can wear with them. Examples of some of the ear piercings available at our Manchester location include the following:
Lobe Ear Piercing
fr. £11
Lobe piercings are where most people start when getting their ears pierced and is our most popular piercing.
This does not mean that they are lacking excitement however and come in a variety of fashion shapes and sizes.
We have both plain surgical steel and gold plated balls, as well as cubic zirconia crystal cut earrings and birthstones.
The procedure is painless and here at Silver Lining we  pierce your lobes with our Studex 75 cartridge system, traditional earrings with butterfly backs.
We also pierce lobes with a needle and labret for those who prefer this method but both methods are tried and tested by our in-house specialists, and are safe and hygienic.
Forward Helix Piercing
fr. £23
Forward Helix piercings are a unique type of ear piercing, due to their ability to be customised and fit any personal style.
Located on the upper cartilage of your ear, directly above the tragus and facing forward.
Forward helix piercings don't require any specialist equipment and can be performed in a typical fashion, much like a standard lobe piercing.
As with most of our piercings, you can upgrade your piercing to include both gold and black bars as well as a variety of crystal coloured balls.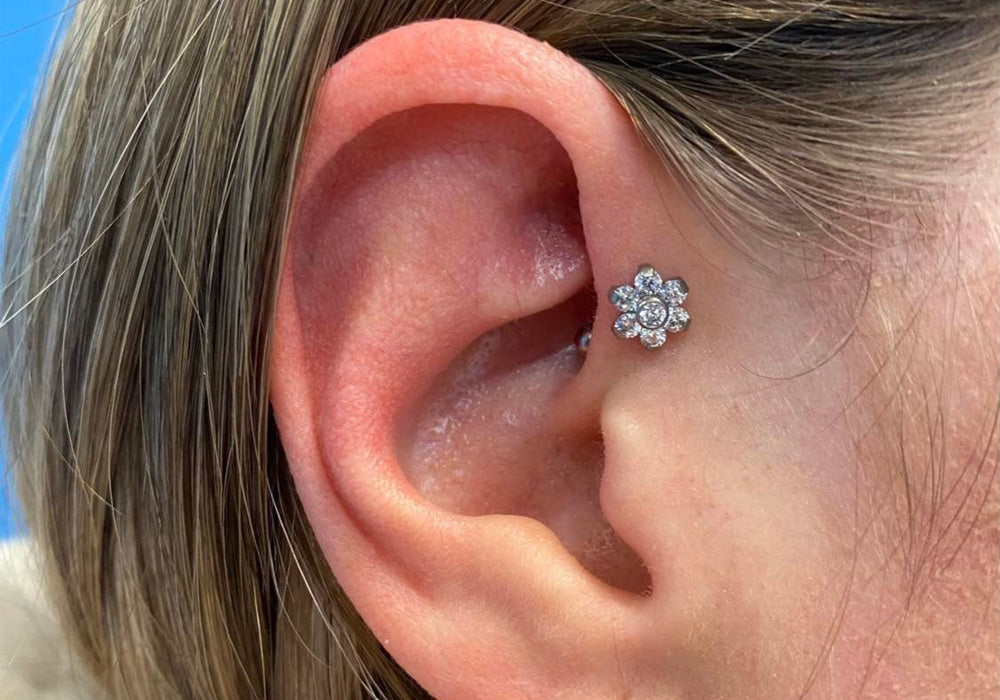 Transverse Lobe Piercing
fr. £23
An alternative to the traditional lobe piercings, a tranverse lobe is just as simple, but a lot more unique. The piercing itself is a curved bar pierced through the earlobe from side to side, rather than front to back.
Rather than having a front and back like a lobe stud would, transverse piercings have a ball on each end that can be seen on either side of the earlobe once pierced.
Snug Piercing
fr. £23
Otherwise known as anti-helix piercing, snug piercings are a great addition to your piercing portfolio.
That being said, a snug piercing is a unique and interesting ear piercing for someone experienced in getting their body parts pierced and now would like  something outside a bit different.
Snug piercings are located at the top of the anti-tragus, and are pierced through an area called the anti-helix, which sits between the rim of your ear and the inner cartilage.
We have a vast range of jewellery for snug piercings at our Manchester store and our pierceres will help you pick the right one for you. Upgrades are a fantastic addition to your piercing and can include coloured bars, and crystal coloured balls, to make your piercing unique to yourself, and be the envy of your friends.
Where is Silver Lining Manchester store based?
Our Manchester shop, is based in the heart of King street, one of the premium shopping locations in the entire city and only a 3 minute walk from the iconic John Rylands Research Institute and Library.
As well as ear piercings, what other piercings are available at Silver Lining Manchester store?
Whilst ear piercings make up a majority of our piercings, we are skilled in other types of piercings and also offer upgrades to any existing piercings you might have.
Other types of piercings we do at Silver Lining include but are not limited to the following: Facial piercings including nose, eyebrow, septum, lip, vertical lip, tongue, smiley, and tongue web.
Body piercings including navel/belly button, nipple, surface and dermal piercings.
Can I buy earrings in store?
Like all Silver Lining stores, our stylish Manchester branch is stocked with a huge range of piercing jewellery, so you can purchase your first jewellery as soon as your piercing has healed. We also offer great advice on what type of jewellery will suit your piercing, and can fit and change it at no extra charge.
How much does it cost to get your ears pierced?
At Silver Lining we strive to offer value as well as quality meaning our prices are very competitive. For a simple one lobe piercing we charge only £11 and most of our cartilage piercings start at £23 for one or £39 for two. The £39 for two offer can be used on you or a friend and we also have a 10% student discount day on Wednesday, and support blue light and NHS workers by giving them 10% discount as well.  Book an ear piercing appointment for our Manchester studio here, today.