Ear Piercing Nottingham
Internally threaded fr. £11
Externally threaded fr. £15
Silver Lining was established in 2002 and in the intervening 20 years has expanded to 7 locations around the north of England. With our Nottingham studio located on 7-9 Hounds Gate.
All of our equipment in the piercing studios is Hospital grade (vacuum autoclaves and sterilisers). We train all of our staff in maintaining a sterile environment and in infection control. Our studios are scrupulously clean.
Our team will be with you all the way until your piercing has healed. You are more than welcome to visit any of our shops for regular check-ups, or contact us for advice and aftercare.
We are a pro choice at Silver Lining and can offer you a wide range of ear piercings. We're looking forward to your visit, welcome!
Lobe piercings
The most popular ear piercing is our lobe piercing. This procedure has minimal discomfort.
At Silver Lining we offer a choice of 2 different types of ear lobe piercings:
With traditional butterfly earring backs which are just squeezed gently onto the ears. We never use a gun.
We offer a choice of earrings: surgical steel and gold plated, either plain or with gems.

Or a needle piercing using a longer titanium bar (or a solid gold bar), this allows for more swelling. This is the technique we use for all cartilage piercings.

Both methods are sterile and safe and your piercer can give you all the information to make an informed choice.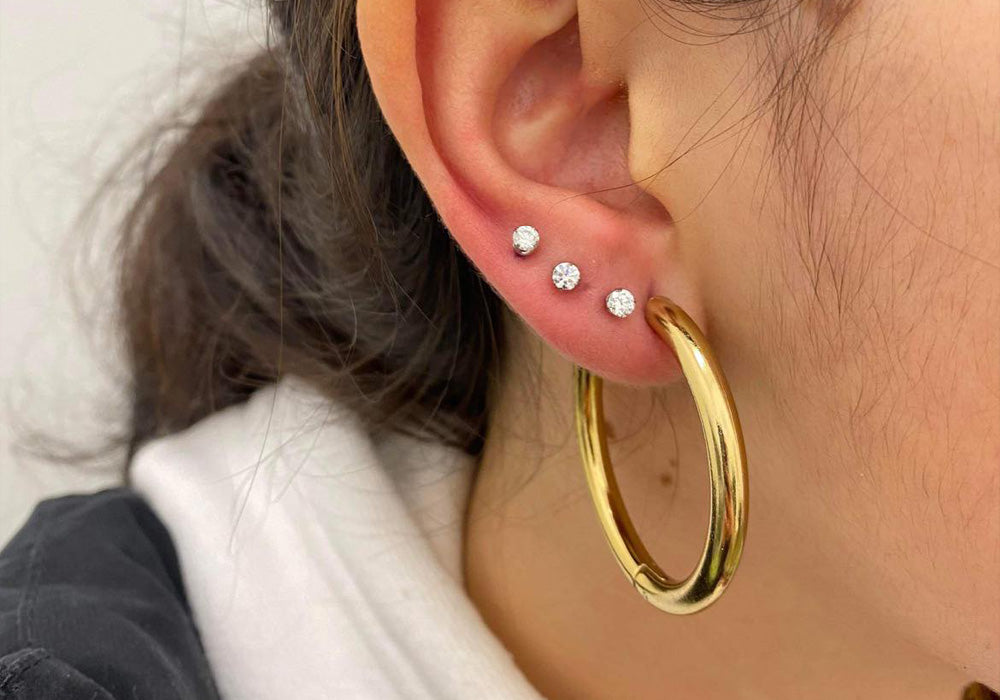 Daith Piercing
We use a surgical grade long titanium curved bar for a daith piercing. It is long to allow for swelling and can be changed when it is healed.
It is performed on the ear just above the ear canal.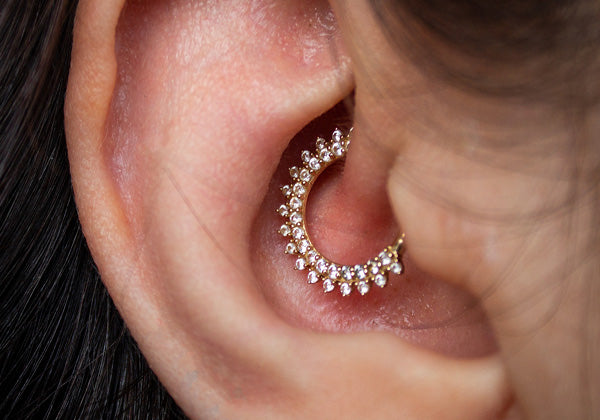 Helix Piercing
A helix piercing is any piercing made to the upper cartilage of the ear.
Standard helix piercings are the most common and there made to the outer upper cartilage. There are also forward helix and even triple helix piercings, you can book those with us as well.
As with most of our piercings, we offer upgrades from our standard plain balls. For more information, we are happy to recommend which upgrade would suit you when you come in for your piercing appointment.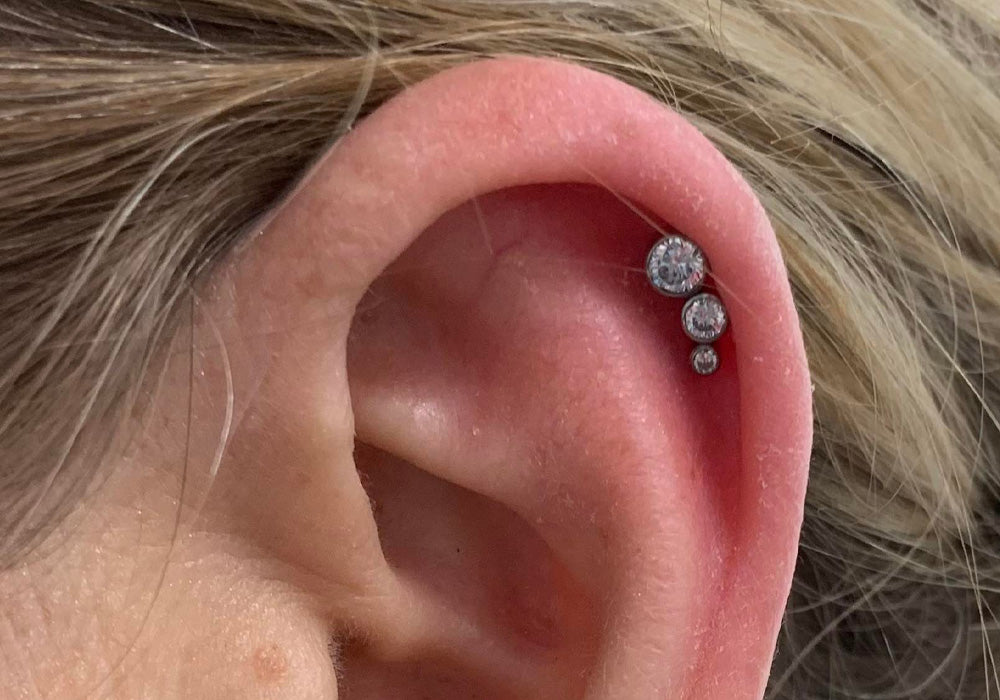 Ear Piercings
If you come by our piercing studio in Nottingham we can offer you a wide range of ear piercings. The types of ear piercings we offer include the following:
Lobes, Daith, Helix, Tragus, Antitragus, Forward Helix, Rook, Conch, Snug, Transverse lobe, Flat, Scaffold and Industrial piercings.
Facial- and Body piercings
In our 5 star rated piercing studio in Nottingham we are also skilled in other types of piercings such as:
Facial piercings which for example include nose, eyebrow, septum, lip, vertical lip, tongue, smiley, and tongue web.
Body piercings which for example include navel/belly button, nipple, surface and dermal piercings.
Please visit our price list and appointment page to see our full offering within ear-, facial-, and body piercings.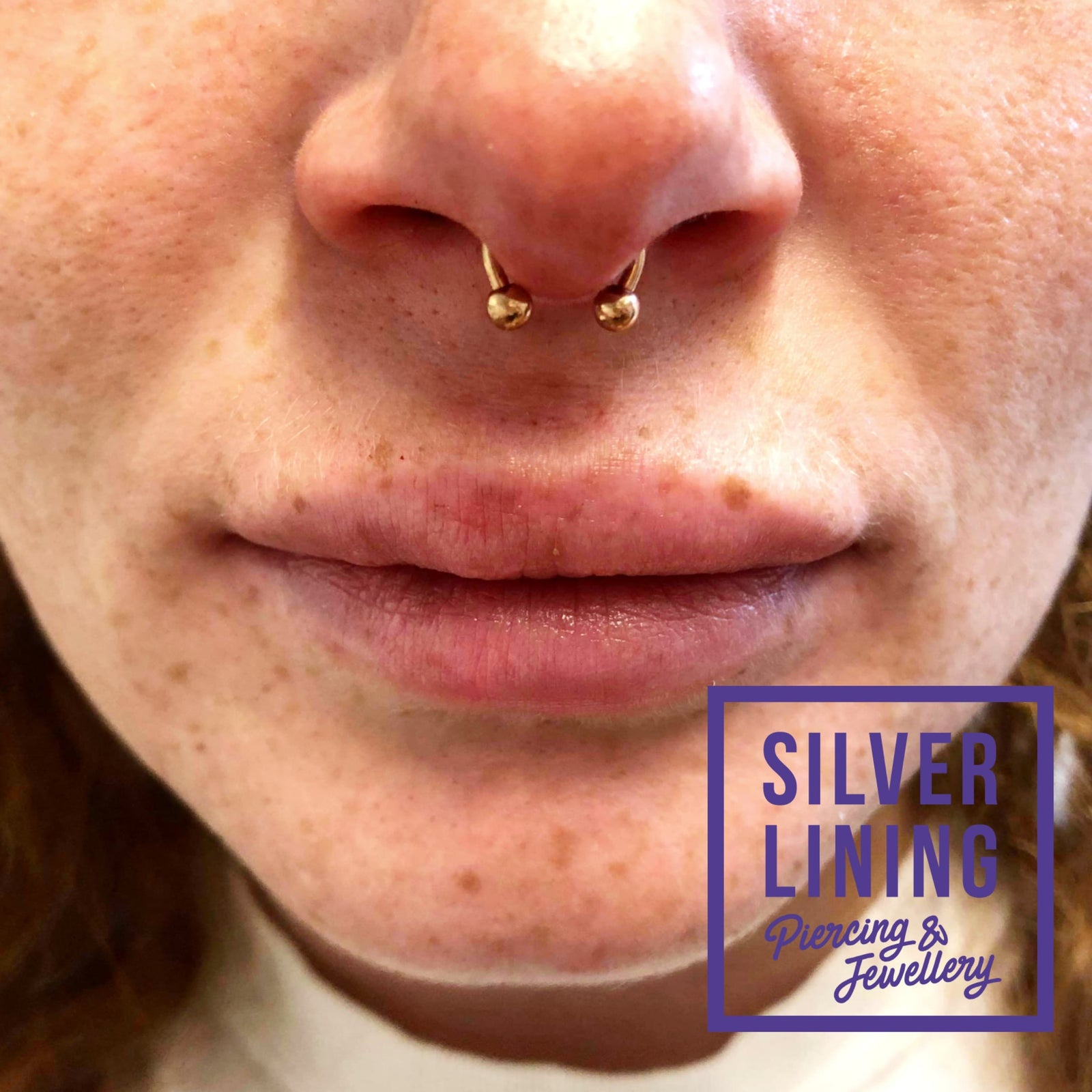 How much ear piercing cost
The price to get a new ear piercing from us depends on whether you prefer external and internally threaded jewellery since we offer both.
Externally threaded jewellery (The thread is on the outside). Lobe piercings are £15 or 2 for £28. Cartilage piercings are £23 or 2 for £39.
Internally threaded jewellery (The thread is on the inside). Lobe piercings are £18 or 2 for £34. Cartilage piercings are £25 or 2 for £45.
All prices include simple titanium bars, however we offer a range of upgrades in titanium or 14 carat gold with various stones which can be purchased instore at a little more.
Please visit our book appointment page to get our latest offers and discounts that applies to our ear piercings in Nottingham.
How ear piercing is done
We offer many choices of ear piercings:
You can be pierced with surgical implant grade titanium or 14 carat gold with internally threaded jewellery for a smoother piercing (that some say is less uncomfortable and quicker to heal) which is a little more expensive, or externally threaded jewellery, which is cheaper.
We pierce earlobes with either traditional earrings with butterfly backs (the first choice of most children) although we advise people that if they swell more than normal we will have to change the earring for a titanium bar, or with a needle piercing with a longer titanium bar, which is more appropriate for larger earlobes or people who have a tendency to swell significantly.
How ear piercings heal
A new ear piercing may be red and tender for a few weeks. The healing time for ear piercings can vary depending on where it is and how well you look after it. As people heal at different speeds you may have to wait a little longer before changing the jewellery.
It takes a minimum of 6 to 8 weeks for earlobe piercings to heal and a minimum of 12 weeks for ear cartilage to heal and sometimes much longer.
Once your piercing has fully healed and is no longer red or uncomfortable, you can come back in to one of our stores to buy a shorter bar, a ring and/or fancier jewellery.
If you buy the jewellery from us we will change it for you completely free of charge, or if you bring your own jewellery then we charge a £6 jewellery change fee. Our experience to Piercer's can check for you to make sure the piercing is fully healed and ready for some new jewellery.