Ear Piercing Sheffield
Internally threaded fr. £11
Externally threaded fr. £15
With over twenty years of experience in ear piercing, here at Silver Lining we pride ourselves on offering a premium piercing experience.
Our premises are spotlessly clean and our friendly staff are highly trained, meaning, whether it's your first piercing, or one of many, we are well placed to offer advice and reassurance throughout the entire procedure.
Like all Silver Lining stores, our stylish Sheffield branch is stocked with a huge range of piercing jewellery, so you can purchase your first jewellery as soon as your piercing has healed.
We also offer great advice on what type of jewellery will suit your piercing, and can fit and change it at no extra charge.
Lobe Piercings
Fr. £11
Lobe piercings are our most popular ear piercings and come in a variety of fashion shapes and sizes.
We have both plain surgical steel and gold plated balls, as well as cubic zirconia crystal cut earrings and birthstones.
The procedure is with minimum discomfort and here at Silver Lining we can pierce your lobes with our Studex 75 cartridge system (traditional earrings with butterfly backs), which is totally safe and doesn't use a gun, and also with a needle for those who prefer this method. Both methods are tried and tested, and both are very safe and hygienic.
Helix Piercings
fr. £23
A helix piercing is any piercing made to the upper cartilage of the ear.
Standard helix piercings are the most common and there made to the outer upper cartilage but there are also forward helix and even triple helix piercings.
As with most of our piercings, we offer upgrades from our standard plain balls, which you can see on our website.
For more information we are happy to recommend which upgrade would suit you when you come in for your piercing appointment.
Daith Piercings
fr. £23
A daith piercing is performed on the ear just above the ear canal.
Initial piercings are performed using a curved bar with enough length to allow for swelling. At Silver Lining, with our numerous years of experience, we will use a length of bar that should accommodate any swelling to the piercing.
Anecdotal evidence suggests that daith piercings have an effect on migraines, and in our experience, in most cases, it seems to lessen their effects. However this cannot be guaranteed and you should do your own research.
Rook Piercings
fr. £23
A rook piercing is the fold of cartilage above the daith piercing and is a great introduction to the world of ear piercing.
It's an easy piercing to take care of and it heals with the minimum amount of fuss.
This piercing is performed with a titanium curve bar, both externally and internally threaded, and can be upgraded to a jewelled ball, and  black, gold and rose gold titanium bars.
Once healed, as with most of our piercings, you could change it to a ring if required.
Conch Piercings
fr. £23
The conch piercing is one of the piercings that has grown in popularity in recent years, in part due to celebrities such as Zoe Kravitz sporting them on the red carpet.
There are two types of conch piercings, the inner conch and the outer conch; the inner conch is the cup-shaped area just beside the ear canal in the centre of the ear, and the outer conch is the flat piece of the ear between the helix and the antihelix.
Both types of conch piercings lend themselves well to great jewellery upgrades, such as a curved 4 CZ upgrade, as well as a CZ hoop once the piercing has healed.
Tragus Piercing
fr. £23
This is a great little piercing and lies just beside the ear hole. It has some fantastic upgrade options from a single CZ stone to a curved multi CZ bar.
This is a good starter piercing as its a great healer and easy to take care of.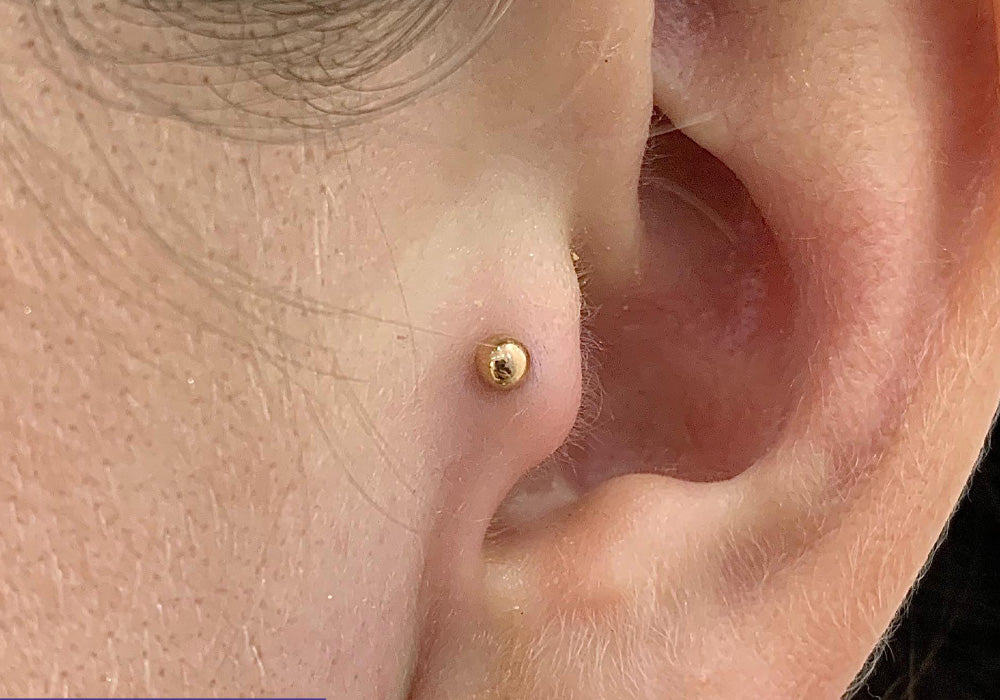 Scaffold Piercing
fr. £38
A statement piercing that goes across the top of your ear from one side to the other.
Once healed you can have some great upgrades from squiggle bars to coloured titanium.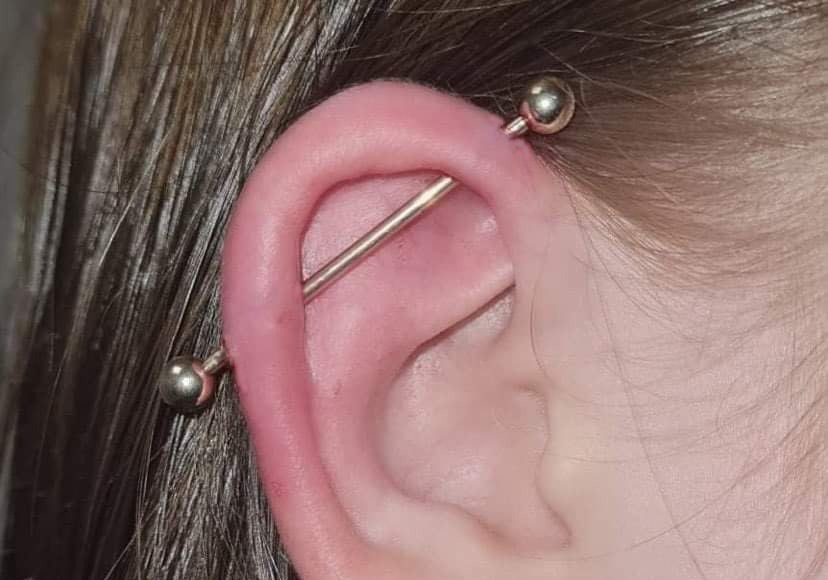 Which Ear Piercing should I get?
Lobe piercings are our most popular piercings and can be performed on people from 8 years of age upwards, however we like to be flexible with our age restrictions and can accommodate younger customers (with parental consent).
Progressing on from lobe piercings is entirely up to the individual and what tastes and styles they prefer. Silver Lining has lots of designs and upgrades and can accommodate a variety of coloured bars as well as gold, rose gold and black bars.
We are very happy for you to come in and see us initially for a consultation, so we and you can get an idea of what you would like from your piercing.
What other types of piercings do Silver Lining offer?
Ear piercings make up a majority of our piercings but we do offer, and are skilled in other types of piercings. Most piercings can include upgrades and we are happy to discuss this with you.
Other types of piercings we do at Silver Lining include but are not limited to the following: Facial piercings include nose, eyebrow, septum, lip, vertical lip, tongue, smiley, and tongue web.
Body piercings include navel/belly button, nipple, surface and dermal piercings.
How much does it cost to get your ears pierced?
Our prices are very competitive and for a simple one lobe piercing we charge only £11.
Most of our cartilage piercings start at £23 for one or £39 for two. The £39 for two offer can be used on you or a friend.
We also have a 10% student discount day on Wednesday, and support blue light and NHS workers by giving them 10% discount as well.
Book an ear piercing appointment for our Sheffield studio here, today.